ladder beam
Product Detail
Product Tags
Ladder beam is a beam that resembles a ladder with two tubular members made from standard scaffold tube. Ladder beams have a wide range of uses and can also be used to form part of a more complex structure.
Ladder Beams provide an access opening within scaffolding set ups to allow for material handling on site. Having the beam raised and spanning from one scaffolding bay to the other achieves this as you can then have the bays above supported by the beam, giving the access point for various reasons, e.g. forklifts and trucks.
Ladder Beam are made from 48.3mm OD x 3.0mm up to 4.0mm Wall Thickness Tube and saddle welded at every joint, they fully integrate with existing fittings. Ladder Beam in standard sizes from 3.0m to 6.0m.
Any size requirements are welcome to inquire:sales@hunanworld.com
| | | | |
| --- | --- | --- | --- |
| OUTER PIPE(MM) | INNER PIPE(MM) | WIDTH(MM) | LENGTH(MM) |
| 48.3*3.0 | 48.3*3.0 | 300 | 1000 |
| 48.3*3.2 | 48.3*3.2 | 300 | 1000 |
| 48.3*4.0 | 48.3*4.0 | 300 | 1000 |
| 48.3*3.0 | 48.3*3.0 | 300 | 2000 |
| 48.3*3.2 | 48.3*3.2 | 300 | 2000 |
| 48.3*4.0 | 48.3*4.0 | 300 | 2000 |
| 48.3*3.0 | 48.3*3.0 | 300 | 3000 |
| 48.3*3.2 | 48.3*3.2 | 300 | 3000 |
| 48.3*4.0 | 48.3*4.0 | 300 | 3000 |
| 48.3*3.0 | 48.3*3.0 | 300 | 4000 |
| 48.3*3.2 | 48.3*3.2 | 300 | 4000 |
| 48.3*4.0 | 48.3*4.0 | 300 | 4000 |
| 48.3*3.0 | 48.3*3.0 | 300 | 6000 |
| 48.3*3.2 | 48.3*3.2 | 300 | 6000 |
| 48.3*4.0 | 48.3*4.0 | 300 | 6000 |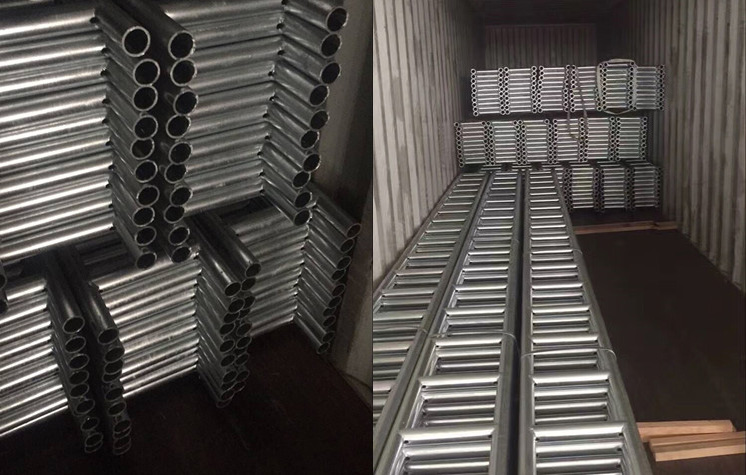 ---
Previous:
scaffolding ladder
Next:
aluminum beam
---