Scaffolding Tube
Product Detail
Product Tags
Product Description of Scaffoldong Tubes
Scaffolding tubes are the main parts of tubular scaffolding system. Hot dipped galvanized surfaces treatment provided the excellent appearance with sufficient durability in such applications where salty air or long-term weather exposures are inevitable.
Because of its flexibility and fast delivery, as well as low cost compared with other scaffolding system, scaffolding tubes are one of the best selling scaffolding material!
We manufacture a scaffolding pipe for different industrial applications. Usually, it can be found in construction building, oil & gas, and other industries.
Furthermore, our series of scaffolding pipes are widely used for all scaffolding systems, tube lock scaffold, cuplock and ringlock scaffolding, props, heavy-duty shoring frame, etc.
As a professional and advanced scaffold manufacturer in China, We offers a scaffolding pipe with different types and sizes to choose.

If any scaffolding pipe sizes request, we can cut your scaffolding pipe according to your specifications.
For the types, you can choose whether hot-dip galvanized scaffolding pipe, scaffolding welded scaffold tube, steel scaffolding pipes, and more.
Steel Grade of BS1139 Scaffolding Pipes
BS1139 scaffolding pipes steel grade include S235, S275, S355 for both GI and black types. According to the steel grade, S355 scaffolding pipes are high yield and tensile strength to ensure a bigger load capacity.
Hunan World Scaffolding Pipes Test
Hunan World Scaffold produces all types of BS1139 scaffolding pipes GI and black. The company has its own test house controlling scaffolding pipe quality from the following steps:
1) Steel grade of raw material
Scaffolding pipe raw material is steel plate. Only tested past steel plate coil are approved accepted in raw material stock. Raw material testing including chemical composition according to BS1139, physical property of tensile strength, yield strength, elongation.
2) Welding line testing
Scaffolding pipe welding line quality is tested according to ISO3834 and EN1090 CE requirement. While flatten testing is also essential in scaffolding pipe welding line testing.
3) Finished scaffolding pipe testing
GI scaffolding pipes are tested after galvanizing, while black tube are tested after welding directly.
The testing include chemical composition, physical property and flatten.
Clients can get mill certificated, test report from Hunan World Scaffolding for each batch of material.
Product Features of Scaffolding Tubes
1.  Easy to use
2. Durability
3. Ease in assembly and dismantling
4. Light in weight
5. Adaptability&Flexibility
6. Cost Effectiveness
Product Manufacturing process of Scaffolding Tubes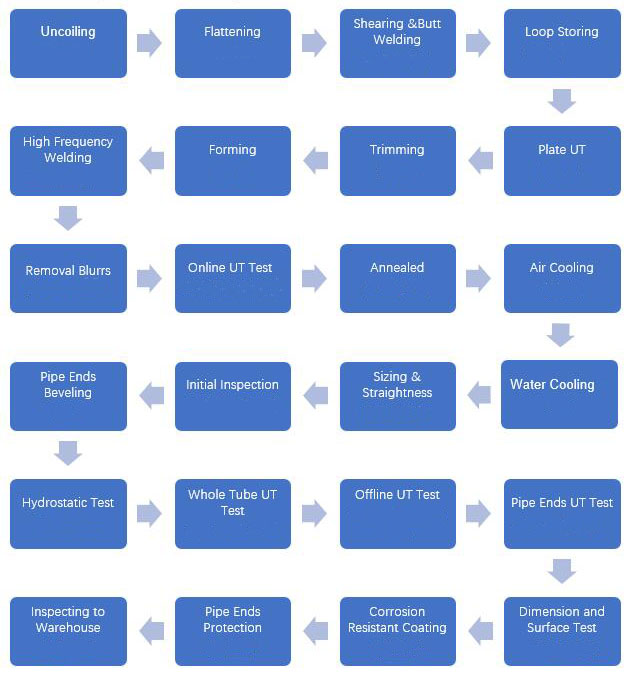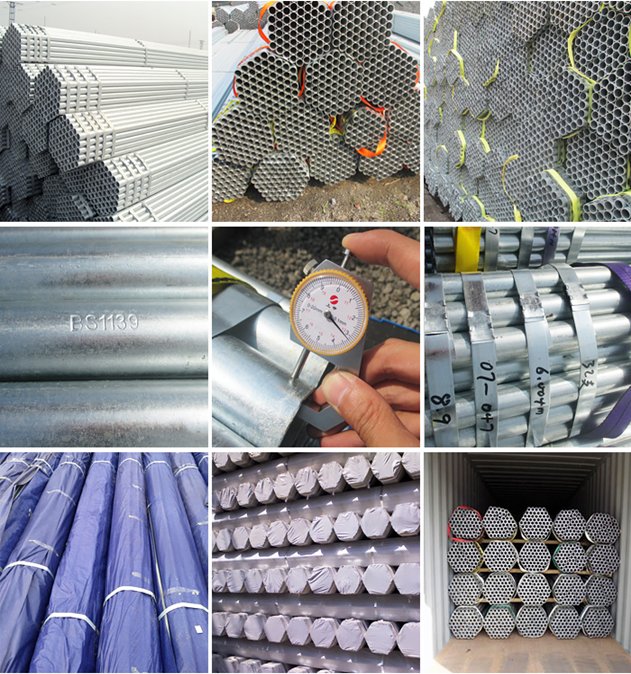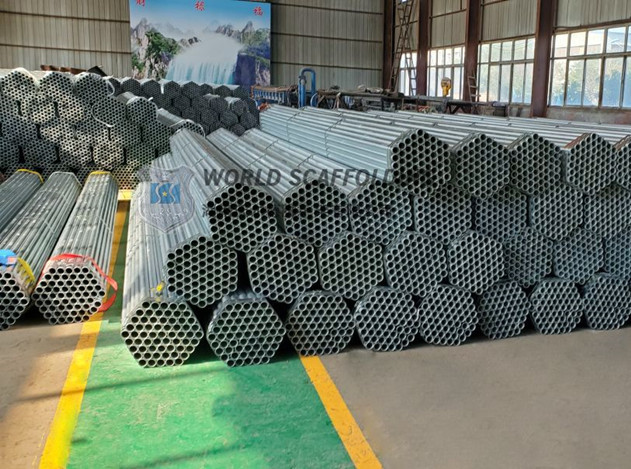 Product Application of Scaffolding Tubes
1. Construction project
2. Oil and gas
3. Power plant
4. Fertilizer factory
5. Cement plant maintenance
6. Refinery
Product Certificates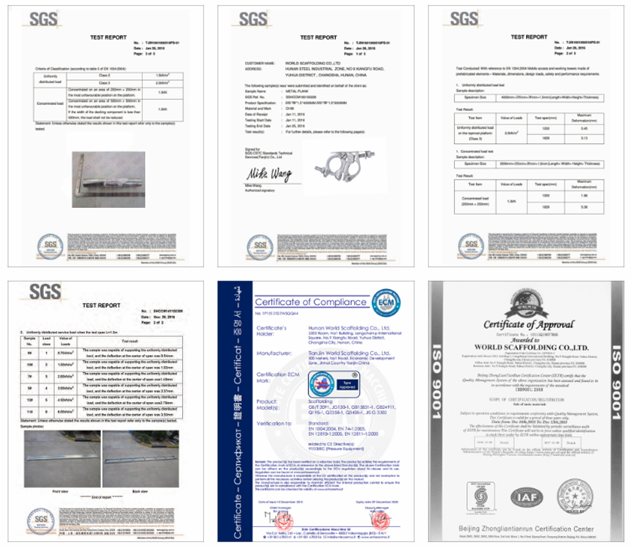 ---
Previous:
Next:
scaffolding steel planks
---